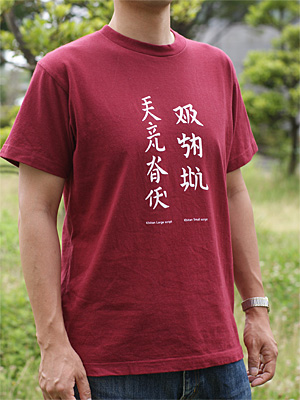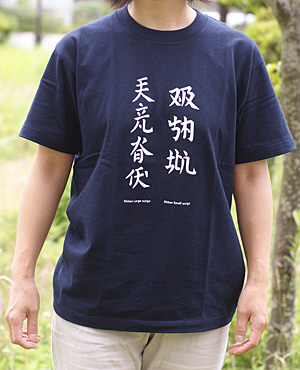 On this t-shirt, there are two types of characters from the Khitan (Liao) Dynasty, which were built nearly a thousand years ago.
Since the Khitan script is an undeciphered script, there is still room for further research on how to read it, but the script on the left is the Khitan large script and the script on the right is the Khitan small script, both of which read "mo doron usug". The Khitan scripts on this t-shirt were designed by faithfully reproducing the script of the actual Khitan inscription.
This t-shirt was designed to commemorate the 34th MojiMoji Cafe "Deciphering the Khitan Script" held in April 2012. The t-shirt was designed by Mr. Naoyuki Takeshita, a typeface designer, and supervised by Mr. Wu Yingzhe, a researcher of the Khitan language and script at Inner Mongolia University in China, who was staying at the Institute of Languages and Cultures of Asia and Africa, Tokyo University of Foreign Studies at the time.
Supervision: WU Yingzhe Ph.D. (Researcher, Inner Mongolia University, China)
Design: TAKESHITA Naoyuki(typeface designer)
Planning and production: Mojimoji Cafe